Wednesday, January 26, 2011
Wrote by

Suze
at 8:19 PM
0 Lovely Note(s)


I love those little bug bows, they look so cute. I am not going to lie, they were not easy to make but I am sure they will be as soon as I get a hand of it.
This one was supposed to be a lady bug but I run out of red and black dot. I order some, so as soon as it get here I will do the little lady bug.
I have to say, this one was the hardest, but I plan on making more so I can have a little more practice.
Wrote by

Suze
at 8:08 AM
2 Lovely Note(s)


Monday, January 24, 2011
I had some fabric left-over from the apron that I made for Gennie, so I decided to make her a skirt. I took a while to get it right since this is my first time and I did not have a pattern, not sure I want to get into sewing, not my thing. Well, after hours of frustration I got this and I am not even too crazy about, but she has one more skirt and no matching shirt, guess I'll have to buy her one so she can wear at least once.
At least now, I can say I made her a skirt, hahaha!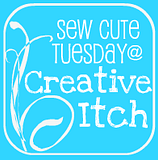 Wrote by

Suze
at 3:43 PM
0 Lovely Note(s)


Sunday, January 23, 2011
Doesn't really look like the pictures but I still like it anyway. I am not sure I will make another one like it ( only if someone ask me too), I think it is a bit to big.
What do you think?
Wrote by

Suze
at 8:02 AM
3 Lovely Note(s)